HOT READING
There's nothing quite like a good read of erotica to get your juices flowing. We also feature some great books to help you fire up your sex life.
101 Nights of Grrreat Sex
by Laura Corn

Once a week couples each tear a sealed page from this book and follow the instructions for pleasing each other. The erotic scenarios, with names like "Tricks of the Tongue," "Puss 'N Boots," and "Dangerous When Wet," are divided equally among men and women, so both partners take responsibility for introducing more creativity and spontaneity into their sex lives. Corn's unique book helps couples explore fantasy and role-play, while enjoying the thrill of anticipation and the element of surprise.
101 Grrreat Quickies
by Laura Corn
Anyone can add fun, excitement and a dash of spice to their sex life with these tips designed to heighten anticipation and pleasure. Inside the book's sealed pages are suggestions for creating spontaneous erotic interludes. Half of the pages are for "her" to open, half for "him" to open. Scenarios such as "Delicious Torture," "Fox Hunt" and "Body Melt" will help couples discover new frontiers of erotic excitement.
101 Nights of Grrreat Romance
by Laura Corn
This fun, interactive manual can help couples reach new heights of pleasure and intimacy. Each week, you and your lover tear a sealed page from the book to discover recipes for more playful, romantic encounters. Also includes a "kiss of the week," a passion coupon and excerpted advice from top couples' manuals. The perfect blend of surprise, anticipation and creativity.
The Mammoth Book of New Erotica
by Maxim Jakubowski (ed)

Tour the world with characters whose lust ignites Colombian emerald mines, the Australian bush, New Orleans's humid streets and the neon vistas of cyberspace. This hefty collection of tightly-plotted stories from a group of established writers, many new to erotica, proves that literature and smut are not mutually exclusive. Highlights include re-workings of the private detective genre -- with interracial and lesbian twists -- and a futuristic tale featuring cyborg prostitutes.
The Multi-Orgasmic Couple
by Doug Abrams and Rachel Abrams

Men and women can experience multiple, longer and more intense whole-body orgasms with the help of the newest book from the authors of the bestselling Multi-Orgasmic Man. By practicing Taoist sexual techniques such as deep breathing and orgasms without ejaculation, couples can break free of ingrained sexual patterns--and find greater intimacy and sexual harmony along the way.
The Ultiamte Guide to Strap On Sex
by Karlyn Lotney
Bring a dildo, harness and lube to your next sexual encounter, and experiment with all kinds of pleasurable penetration. This bubbly guide to strap-on sex provides practical instruction for everyone, male and female, straight and gay, who has a hankering for strap-on play. Covers sexual positions, toy and lube selection, and effective communication. Includes a resource guide.
Best Women's Erotica
by Marcy Sheiner

KINDLE edition
Whet your appetite with tales of strong-willed, horny heroines indulging in everything from romantic interludes to SM non-monogamy to lesbian one-nighters. This whimsical series delivers one-handed reading dished out with scintillating detail. Prepare yourself for some taboo-busting encounters as well as stories of vegetable sex, goddess worship, gender play, dentist's chair dominants, and a Santa fetish for good measure!
Better Sex Guide
Adult Videos for Women
Five Hot Stories For Her (2006)

This is a compilation of five short films written and directed by Erika Lust, created specially for women and couples. Erika presents five modern, urban, spicy and explicit stories, where the sex takes place in a natural and realistic atmosphere. Stories include The Good Girl, Something About Nadia, Married With Children and Breakup Sex. Five Hot Stories For Her recently won "Movie Of The Year" at the Feminist Porn Awards and it really is worth checking out!

Available From
Lust Cinema: Membership
Good Vibrations: DVD
Feeling It (2008)

In "Feeling it!" Petra stays true to her magic formula: The Vignettes are artistic visualisations of a huge variety of sensual pleasures, with female enjoyment always being the main focus. Petra's motto "Feeling it, not faking it!" is being embraced passionately by the authentic amateur performers. The results are breathtaking (female) orgasms and a humane portrayal of human sensuality to inspire the viewers.

Available From
Ms Naughty store: DVD
Gamelink: DVD or Download
Must See: Candida Royalle's Femme Films
Candida Royalle made a huge impact on the adult film scene by writing and directing the first porn film for women. Since then 1984 she's continued to create films for her own studio brand called Femme. While all her films contain as much steamy sex as your average, everyday skin flick, Royalle has gone the extra distance in order to create a believable fantasy with a decent storyline, to entertain women's minds, as well as their groins. There's even some great acting involved!
Free Porn for Women recommends the Femme series of films to women looking to explore their sexuality through fantasy. Oh, and they make for excellent foreplay!
Under The Covers (2007)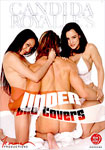 A humorous look at women who live and work in the sex industry. Regina West is a TV personality who is doing a special about women who have changed how we view sex. Through a series of interviews and hilarious mishaps, we discover that what these women present to the public isn't always what they are in private. This is the first film directed by Candida in over five years. It's good to see her back in the director's chair and working her magic.
Available From
Ms Naughty store: DVD
Gamelink: DVD
Sex Superstore: DVD
Hotmovies: Download
Candida Royalle's Stud Hunters (2003)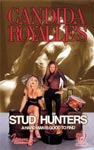 This is the fictional story of erotic film director Carla Divine and her star, Giselle Lorngette as they head to New York City to hunt for the perfect new stud for their next movie. Dozens of guys show up to audition, but things don't go so smoothly as Carla tries desperately to keep her wannabe studs on the set and off the casting couch! Things spin hilariously out of control, but in the end, the director has her revenge in the most enviable of ways! This satirical look at the adult entertainment business spoofs every aspect of XXX, from backstage shenanigans to the ego trips, from fans to paparazzi… and even Candida Royale herself!

Available From
Ms Naughty store: DVD
Gamelink: DVD or Download
Hotmovies: Download
Eyes of Desire (1998)

A beautiful photographer retreats to her friend's hillside home to rethink her relationship and career. The quiet gives rise to an unspoken longing for something she cannot define- a sensual awakening that is fueled by the discovery of her friend's high powered telescope. Through this new lense of desire, she's drawn into a dangerous game of mystery and lust when she discovers that she is being watched by a mysterious stranger from a nearby abandoned estate.

Available From
Ms Naughty store: DVD
Gamelink: DVD
Hotmovies: Download
These videos and others from the Femme series are available from Gamelink.
You can also enjoy the Candida Royalle videos online at AEBN (Adult Entertainment Broadcast Network). This is the only place where you can get pay-per-view adult videos, and you can also rent them overnight. You simply pay $7 and download the video to watch at your leisure over the next 24 hours.
You can also enjoy a FREE VIDEO CLIP when you're there.
---
Want to know more about which adult videos will appeal to you? These two books should be helpful!
Good Vibrations Guide to Adult Videos

by Cathy Winks
Don't be overwhelmed by the hundreds of adult videos at your local video store -- make an educated selection with the help of The Good Vibrations Guide: Adult Videos. Check out X-rated classics, porn from a woman's perspective, high-quality acting, superior plots and cinematography, notable stars, directors and more. Over 100 capsule reviews, a riveting history of porn and censorship battles, interviews with industry insiders, a thorough resource list, and tips on watching -- by yourself or with a lover -- make this the essential video viewing companion.
Couples Guide to the Best Erotic Videos

by Steve Brent
This user-friendly guide takes all the guesswork and embarrassment out of choosing an erotic film. The Brents viewed hundreds of erotic tapes, and their discoveries are here to be shared, along with their mistakes that need not be repeated. With humor and sensitivity, the authors provide tips on getting in and out of the video store fast, a resource directory of where to find the best tapes, and more.
Sites of Interest
Three Pillows. If you've ever liked the idea of being pleasured by two men at once, you'll love Three Pillows. This is the only truly bisexual site on the net, and it aims to reflect the beauty of threesomes, especially MMF threesomes.
Pure CFNM
CFNM stands for "Clothed Female, Naked Male" and it's all about voyeurism with a touch of female domination added. CFNM was originally a form of women's entertainment but the porn industry has warped that, making it all about the guy. Pure CFNM is better than most, offering up true-to-genre CFNM featuring naked guys doing what girls tell them to. They often end up getting a blowjob in the process. If this sounds like your kind of thing, you'll like this site.
Beautiful Agony
Be prepared for a very unusual sort of porn site. You won't find any nudity here, even though the models are having gasping, earth-shattering orgasms. The camera focuses on the face as each man or woman masturbates to climax. This unique idea brings a whole new perspective to porn, not to mention a much-needed humanising quality. Faces are a mirror for emotion and thought, and to watch a face mid-orgasm is fascinating. Once again this is an Australian site, brought to you by the same company behind I Feel Myself.
The following great services can all help you to improve your sex life and put some zing back into your lovemaking!
Adult Shops
Good Vibrations is a wonderful female-friendly adult shop that stocks many adult toys of interest to women, along with videos and books. They also have a lot of cool articles and online features that make this place well worth visiting.
Gamelink has a range of women's products that many other adult shops don't stock, including electric vibrators and Candida Royalle vibes and videos. They're also offering free shipping at present.
Other Services
Feather Touch Personal Shaver - if you like the idea of going bare "down there", then the Pussy Shaver offers a great way to do it. It's a specially designed electric shaver that can easily remove pubic hair without nicks, cuts or contortionism.
More Books
Extended Massive Orgasm
by Steve and Vera Bodansky
In this hands-on guide to getting it right, behavioral scientists Steve and Vera Bodansky describe how to give and receive remarkable orgasms, taking the experience of sex to a new level of enjoyment. Focusing primarily on women but addressing the needs of men as well, they cover anatomy in detail, address inhibitions and fears, suggest useful exercises, recommend the best positions, and most of all offer insightful advice for every technique covered.
How to Be a Great Lover : Girlfriend-To-Girlfriend Totally Explicit Techniques That Will Blow His Mind

by Lou Paget
Paget (a woman) aims "to empower you as a woman, heighten the intimacy of your romantic relationship, and enable you and your partner to enjoy yourselves in intense new ways." She lives up to that promise with this friendly, titillating, educational, and explicit guide to enlivening your sex life and keeping your man coming back for more.
Secrets of Better Sex

by Joel D. Block
Dr. Joel Block, senior psychologist and sex therapist at Long Island Jewish Medical Center, offers a frank, uncensored, and practical guide that could change the reader's love life forever. This cookbook to great sex gives specific directions, suggestions, anecdotes, and techniques for lovers of all ages. 20 line drawings.
The Clitoral Truth : The Secret World at Your Fingertips

by Rebecca Chalker, Fish (Illustrator)
This highly informative tour of the clitoris is written with the clarity, exuberance, and accessibility of a sexuality workshop. Growing out of the author's work as a member of the Federation of Feminist Women's Health Centers, the study begins by debunking myths and inaccuracies and replacing them with anatomically precise detail. Containing personal accounts, comprehensive illustrations, and a thorough appendix of female sexuality resources, the book will help women and their partners understand and expand their sexual interests and potential for pleasure.
Herotica 6 - A new collection of Women's Erotica

by Marcia Sheinar (ed)
The sixth anthology of erotic fiction edited by Sheiner continues the recent tradition of writing and evaluating pornography from a female perspective, welcome reading to anyone who finds such an approach interesting or important. This time out, Sheiner has chosen to concentrate on partnerships, and in her introduction she explains that her concern was to provide an answer for the inevitable question: So how do women keep sex alive in committed relationships?
Brown Sugar - A collection of erotic Black Fiction

by Carol Taylor (ed)
"In Brown Sugar we're here to represent, to show the real souls of black folk, our own particular ardor and passion." The stories span the spectrum of sexuality from straight to gay, with some kinky stuff thrown in. None of the entries are pornographic, though graphic depictions of sex abound. The best of the stories, like Diane Patrick's "Never Say Never," explore the emotional as well as sexual aspects of the erotic; readers may learn more about themselves as they explore the erotic imaginations at work in this book.